"We Eliminate Home Building Headaches With Personal Attention and a Tailored Building Experience."
Sorrento Fine Homes is a bilingual home builder located in South Texas. Specializing in new home design, construction, remodeling and home renovations, we are the only contractor in the Rio Grande Valley to have earned a Graduate Master Builder accreditation. We know that building a new home and renovating can be really stressful experiences for many people.
Customized and Ethical Building
We're dedicated to turn your unique needs, specifications,
and tastes into the ideal custom home. Best of all, we
use ethical practices to do so.
Commitment to Excellence
From personal attention and knowledgeable guidance
to the finest craftsmanship and materials, we are
committed to excellent service from beginning to end.
Certified Graduate Master Builder
The state of Texas does not require home contractors to
be licensed. As a result, it is crucial to find a qualified
contractor. Our team is backed by extensive experience
and professional accreditation.
Our Services
Our entire done-for-you building solution takes care of the everyday building admin, so you can enjoy all of the homes with none of the hassle. We help you tailor your home to your tastes with advanced 3D mockups, a customized building approach, as well as stringent quality control processes. You can turn to us for personal guidance at every stage of the building process.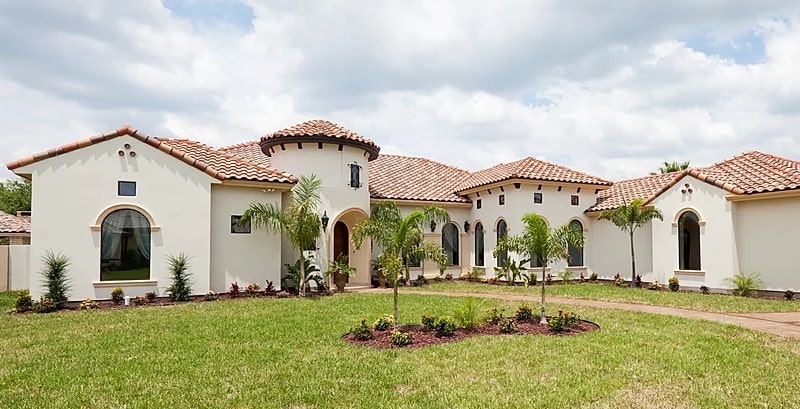 "We create homes that go above and beyond expectations, throughout every aspect of the house building process."
From ground breaking to being furnished in 100 Days! We build on time and on budget! This home
won best in category in the 2016 RGVBA Parade of homes! This beautiful Mediterranean home
with exquisite interior design is a high performance home that is Green Built Certified,
Energy Star Certified, Built To Save Certified.
Testimonials
Customers are, naturally, at the heart of all we do. With that in mind, we seek out the most desirable sites, design with
enduring passion and create high value with premium products at all our developments. These attributes
continue to differentiate Sorrento Fine Homes to the present day.
"Joshua has been fantastic in all his dealings with us. Extremely professional and responsive. An excellent service overall!"
- Diana Maria
"We were delighted with the service we have just received from Sorrento Fine Homes. Their advice and service was first class throughout. They kept us informed and aware of viewings on our house all through the process. Highly recommended!"
- Eduardo James
"I was delighted with the personal and highly professional service I received from everyone at Sorrento Fine Homes. I am thrilled with the end result and I wouldn't hesitate to recommend Sorrento Homes in the future."
- Shirley Carlos
"The folks at Sorrento Fine Homes have always been professional and supportive and have a wealth of knowledge of the Mission area and Rio Grande Valley. Joshua, in particular, was excellent from start to finish as he responded immediately and proactively gave us updates during the whole process. Definitely recommend the service and staff."
- Christine King
"The guys at Sorrento are amazing! They were by far the best and most honest sales team we have met! Helped us with all the questions and issues we had. Would 100% recommend them!"
- Steve Correa
"Sorrento Fine Homes are very professional in their projects, working to the highest quality creating luxury homes. They design and create everything down to the last detail. If I could use three words to describe them they would be: Professionalism, Quality & Responsiveness. The office staff have always been extremely helpful and polite. I would highly recommend this builder."
- Pete Duncan